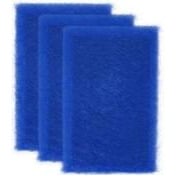 $

70.25
Dynamic Air Cleaner Refills - 16" x 25" x 1" - 3 Pack
Factory original refills for Dynamic 1" Polarized-Media Electronic Air Cleaners.
Dynamic® Air Cleaners make your home cleaner, healthier, and safer by:
Turning your home's central heating and cooling system into a high-efficiency air cleaning system.
Removing sub-micron particles and other contaminants that other filters miss, including bacteria, odors and smoke.
Removing allergens such as pollen, mold spores and dust mite pellets.
Capturing over 97% of particles .3 microns in size. keeping your entire home cleaner.
Buy the convenience package and ship for the same price as one!